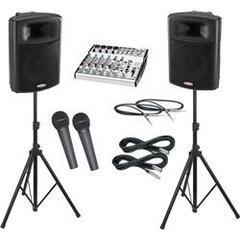 Be your own DJ kit




$49.00

Please call to reserve this item.

DJ Kit
This item is for pickup only.
$149.00
Want to be a DJ at your event? We have you covered, System hooks directly to your phone or laptop and plays thru powered speakers, Kit comes with 2 - 250 watt 15 inch powered speakers, 1 microphone, mixer board and is ready to make some sound. Not your wimpy department store kids toy, this is the real deal for DJ, PA system, Dance parties or any other venue where you may need 500 WATTS sound.